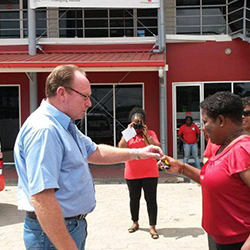 What does QC mean for HC?
Is the part of quality management.
Ensures products and service comply with clients requirements.
Facilitates the measurement of the quality characteristics of a unit, compares them with the established standards. BS, ASTM, EN etc.
Continued evaluation of the constructions process in regard to contract, plans & specifications.
First of all we have to make sure that we know what we have to build or what kind of service we have to deliver. Make sure what is the scope. What are the standards? The British standard, ASTM, Euro codes or els. During the construction you have to make sure that your products comply with the specifications Continually, you have to evaluate and compare the construction process with the contracts, plans etc.
One way of controlling our quality is based on the inspection or verification of finished products by performing different tests.
We perform:
Haukes Construction N.V. is a general contractor company providing architectural and civil engineered constructions in Suriname.
Duisburglaan #45, Flora
Paramaribo – Suriname
Telefoon: (+597) 492025
Fax: (+597) 491948
E-mail: info@hcnv.sr
Mon-Fri:
07:00u – 17:00u
Saturday: Closed
Sunday: Closed