HEALTH, SAFETY AND ENVIRONMENT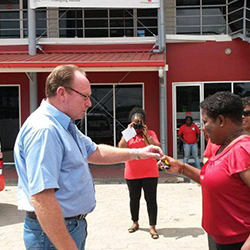 Health, Safety and Environment
Haukes Construction N.V. gives the highest priority to a healthy and safe work environment. In line with this, we are in the process to set up an Occupational Health, Safety and Environmental Management system according to the OHSAS 18001 standard and the ISO 14001 standard. With these management systems, which also apply to subcontractors, we will steadily improve and monitor our occupational health and safety performance.
Haukes Construction N.V. is ISO 9001 certified since 2010. All employees were involved in achieving this company wide goal. With this quality management system we will continuously monitor the effectiveness and efficiency of our activities and aim to improve the overall quality of our performance.
We take HSE very seriously. It is all about you workers. Without it there is no success. without them there no families, no economy. So make sure they work safe, stay healthy and be careful with our precious environment. Our HSE monitoring chart from the last 3 years.in total we have around 5 milj. Manhrs.
TAR Total Accident Rate : number of injuries x 200000/total number of hours worked in July 2014 we had one LTR Lost time rate: number of lost time accidents x 200000/total number of hours worked.
Haukes Construction N.V. is a general contractor company providing architectural and civil engineered constructions in Suriname.
Duisburglaan #45, Flora
Paramaribo – Suriname
Telefoon: (+597) 492025
Fax: (+597) 491948
E-mail: info@hcnv.sr
Mon-Fri:
07:00u – 17:00u
Saturday: Closed
Sunday: Closed